About Elite: Mark Price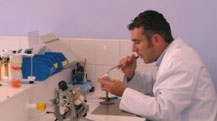 Mark was born the youngest of five, in Ripon, North Yorkshire, in 1974. He went to primary school there, then onto St. John Fishers School in Harrogate. He left school at 16 and went onto become an apprentice at Aesthetic Dental Services.
After five years qualification training, Mark was taught the Ivoclar`s Gnathomat system, both technically and clinically by his director Mr. Tony Kitchen. Mark has since managed the Scarborough location for ADS, whilst visiting dentists around the country, teaching this system.
After this time Mark decided to return to Ripon, where he began to build his own laboratory - Elite Dental Studio. His aim is to deliver a 1st class service at the top end of the market by using the knowledge and ability he has gained over the years. You can rest assured that Elite Dental Studio will be utilising the latest technology along with the best materials and systems the market offers today.
Note: Gnathomat System
This technique is used for Full/Full precision dentures, and Ivoclars BPS System is based around it. This is a Bio-functional Prosthetic System, which focuses on the function of the dentures and how they work for the patient in the mouth. This is made easy by the system returning the jaw to it's original position and height.