Elite Courses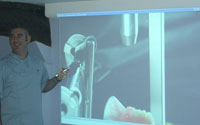 At Elite we aim to deliver a complete understanding of the best technique on our hands ľon prosthetic course, helping you achieve the desired results in day to day cases, from Full/Full dentures right through to making the correct decisions, in a full mouth reconstruction on implants, and more importantly, understanding the two examples above require precisely the same knowledge to achieve the most functional, long lasting result.
We believe to achieve the optimum from this course you have to be in a certain environment. We have created the time for you to work through all stages on the patient and to be in the environment where you feel you can ask your own questions, and have them answered in depth, both visually and in practice.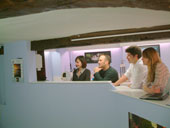 The lab consists of four workstations right next door to the surgery, which has a viewing area for up to 6 people, leaving the surgery free for the tutor, patient and whichever participant happened to be hands on at that time.
This allows you to work through your question/issue, hands on,
In more of a, 'one to one' scenario.
The studio and laboratory can accommodate:
4 hands-on technicians
4 hands-on clinicians
4 viewers (technical or clinical)