Case Studies
Patient 1 | Patient 2 | Patient 3 | Patient 4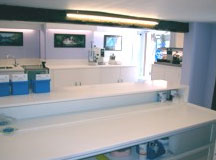 The following are examples of one end of 'our' spectrum:
Visually the aim in all these cases was to give the impression of a natural looking replacement (appropriate for the more mature male) that blends in and suits the patient.
The other end of the spectrum is what we call the 'English Rose 'a pleasant, clean, aesthetic appearance, which would suit the majority of females of all ages.
Not the 'Hollywood' smile though, as they often look to be stepping away from nature, therefore can 'never' blend into the facial features, thus can only be left to make a 'statement'.
We prefer you to; confidentially enjoy using your appliances and all the advantages they bring, and leaving your character to make impressions with the people you meet!
Note:
In our opinion the 'visual appearance' is easily achieved with our techniques, however donít be fooled! The essential priority for all dental appliances is that they 'function correctly', - they do the job required of them, chewing efficiently and been able to roar with laughter without even acknowledging the fact they may move!