Elite Options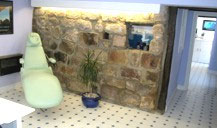 Elite Dental Studio offers the dentist and the patient options on how and where the prosthetic treatment plan is carried out, these are as follows:
The case can be done, as it is most common, where the work is posted back and forth until the end of the treatment plan, with the technician and patient never meeting.
The treatment is started by the dentist where he/she will take impressions and record the occlusion, this may take two visits, after this the patient can come to Ripon for the day, have the try-in appointment where should the patient wish to have adjustments made to the appearance, or things are not just how they would like, then we can make these adjustments and continue until we have the result required.
Following this the patient can return home and the dentures would follow, arriving at their own surgery a couple of days later.
Alternatively the patient could enjoy local attractions for the rest of the day, stay in Ripon overnight, and have their finished dentures fitted later that following morning.
Patients can come independently, or be referred by their dentist. (See our 2 day service)